Who we are?
Website agency that inspires
Fintech Softwares that gives financial freedom, grow your business and many more
Minimum price of customization is $60
Products
Boompay
Boompay is a Modern Payment Gateway. It supports the transfer of money to anyone, requesting money, storefront, invoice, payment buttons(single charge and donation service), virtual cards, bill payment(Nigeria), subscription service, sub-accounts, website integration(HTML checkout), business compliance, and more
HTML CHECKOUT
Receiving money on your website is now easy with simple integration. To start receiving payment on your website, or you need to do is copy the HTML form code below to your website page.
STOREFRONT & PRODUCTS
With a storefront, you can group products and sell them all in one place. Product category, shipping address & rates with more features have been added.
SUB ACCOUNTS
Sub Accounts is for disbursing your payouts to other bank accounts in percent or flat amounts. This account can be disabled when it's not in use. All payout charges made to sub-accounts is summed up and taken from your main account.
PAYMENT LINKS/BUTTONS
Create Payment links such as a single charge link to charge your clients a fixed or any amount. Run crowdfunding events by creating donation pages with Boompay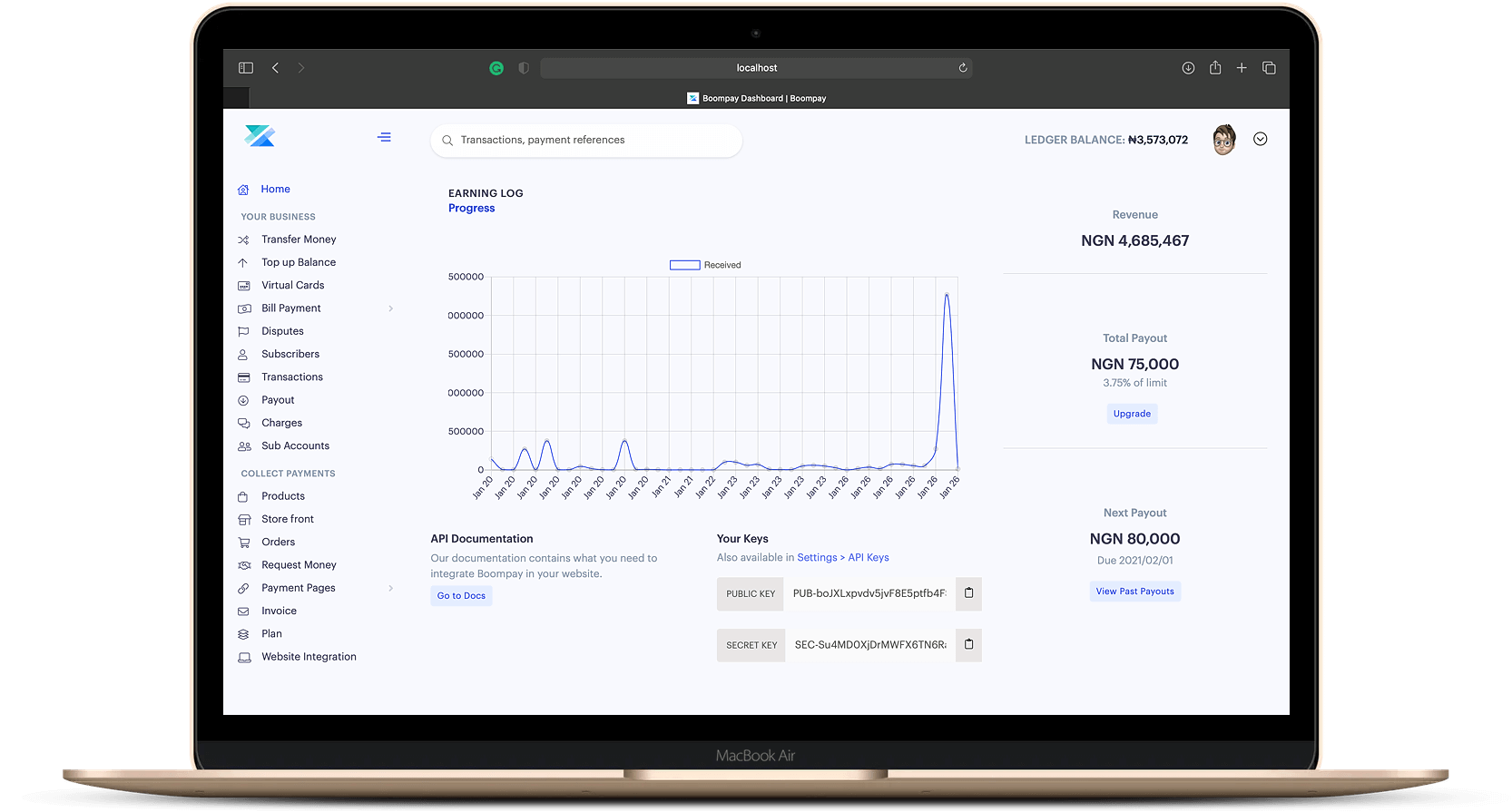 VIRTUAL CARDS
Boompay enables users to convert account balance to virtual cards with limits such as how much a card can hold. admin makes money from card creation fee. The card can be terminated or funded anytime.
BILL PAYMENT
Bill payment is only supported for NGN as default platform currency, it works instant provided your flutter wave account has funds. Type of bills processed by boom pay includes; airtime, data bundle, electricity, & cable tv.
TRANSFER & REQUEST MONEY
Users can send money to anyone with an email address. If the email is not registered, an email will be sent to prompt the recipient to register and confirm the transfer was received. The recipient has 5 days to confirm payment else money will be refunded to the sender. You can also request money from anyone registered on the platform
INVOICE
Create invoices and send them to your clients for payments. An invoice can only be paid by the email address associated with it. marking an invoice as paid without payment being made on the platform will only lead to charges being deducted from your account.
COMPLIANCE & WITHDRAWAL
With the recent increase in fraud, a compliance form was to set limitations to payouts. Withdrawal privileges now range from an unverified, starter, and registered business. A confirmed registered business has no payout restrictions. to upgrade the payout limit, you will have to fill a compliance form on what your business is about and submit it for review.
COUNTRIES & BANKS
To give the admin more control over where he/she wants his business to function, we have added country supported. For payouts, we have also added banks supported to make business easier.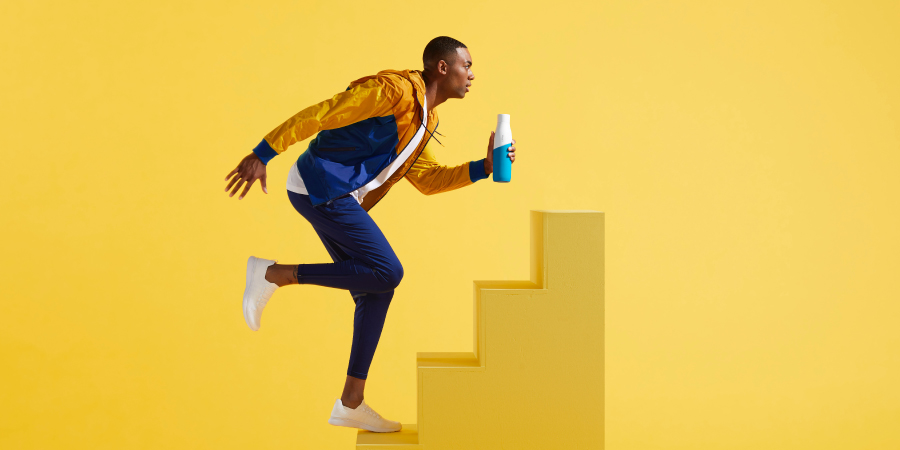 Maintenance & Clients Support
All our clients get support through a dedicated team of support executives. Whether it is a new update or any other need, contact us right away.
Web Development & Customization
Whether you are planning to build a new website from scratch or need to customize or improve your existing shopping site, our experts can do it.
Our Products
See how Boomchart is helping people get organized and work smarter
Dedicated web development platform
We make your business digital.
Included
Full integration guidance and resources.
Get Started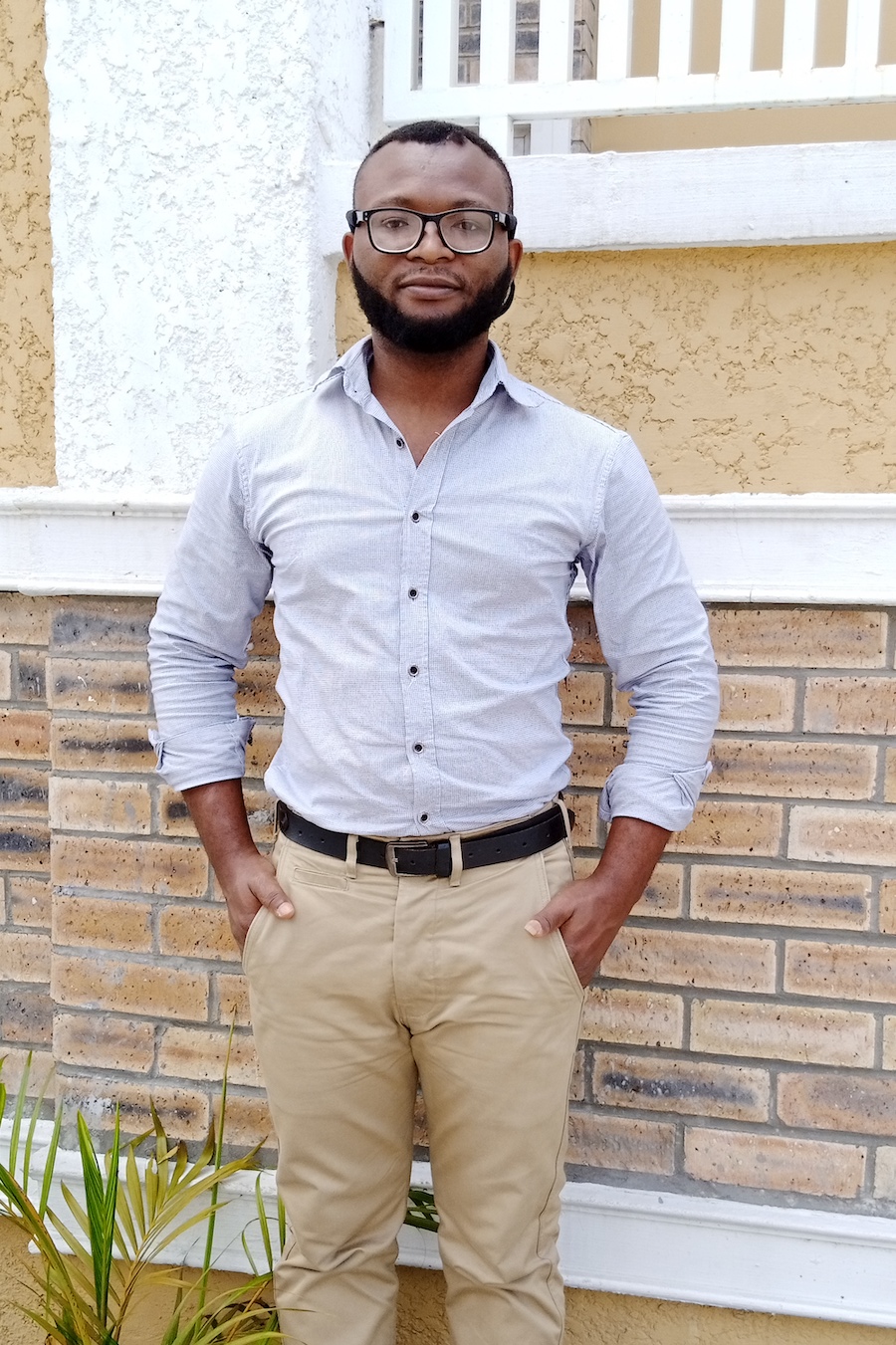 Think of setting up an enterprise where you wish to display and profile a series of viable business projects for investors with good ROI, then think Sandbox an investment system customized to handle investments and settlements for multiple projects.
---
SANDBOX
Sample Projects Sandbox can run
Agro Based and Farming Projects
Real Estate and Property Projects
Fintech and IT Related Projects
Transportation and Logistics Projects
Education and Training Projects
Oil and Gas Projects
Read about product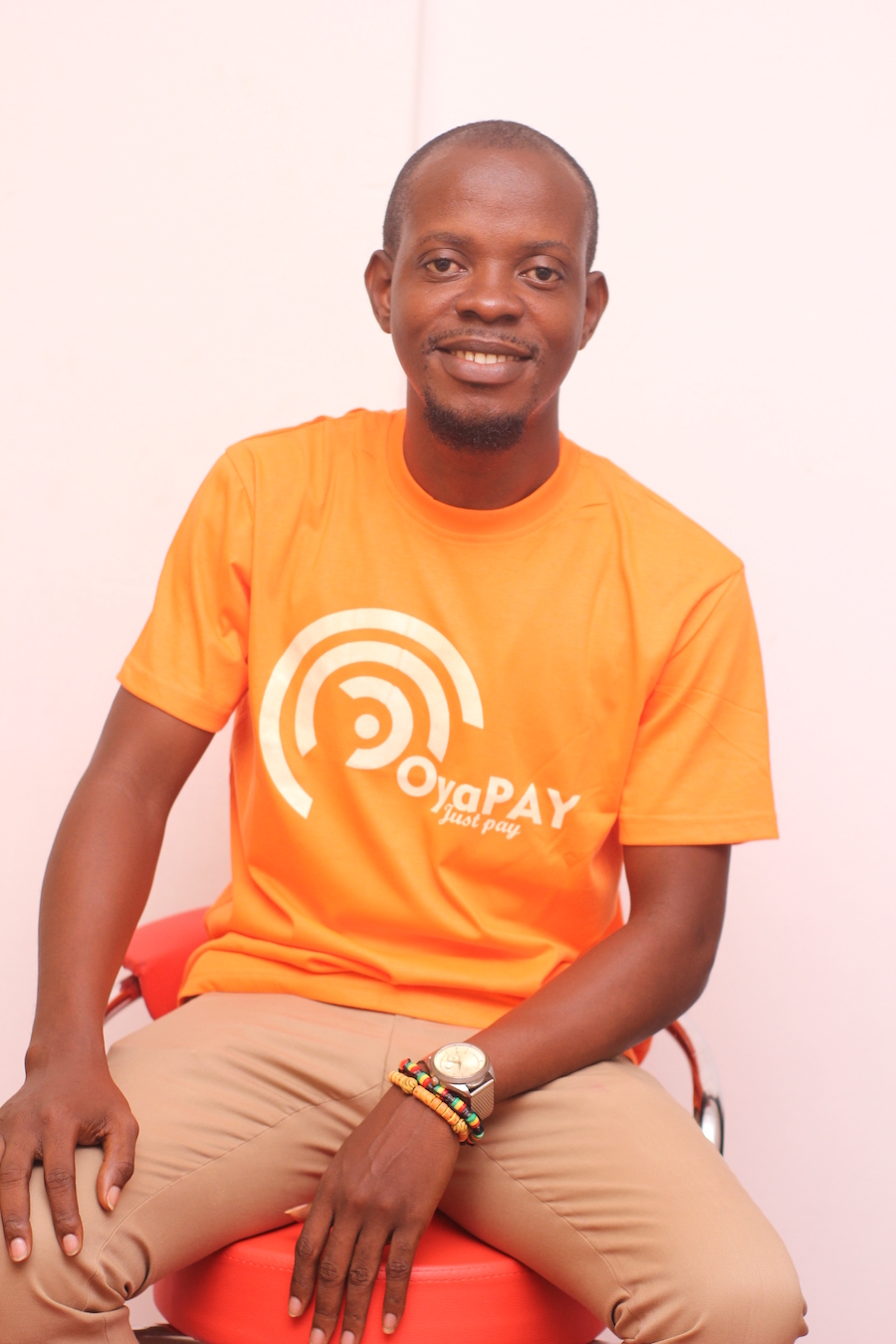 ---
BOOMPAY
We wanted to create an exceptional solution to remedy most crossborder transactional problems faced by African businesses and Startup entrepreneurs.
Read about product
Read our latest news
We've helped some great companies brand, design and get to market.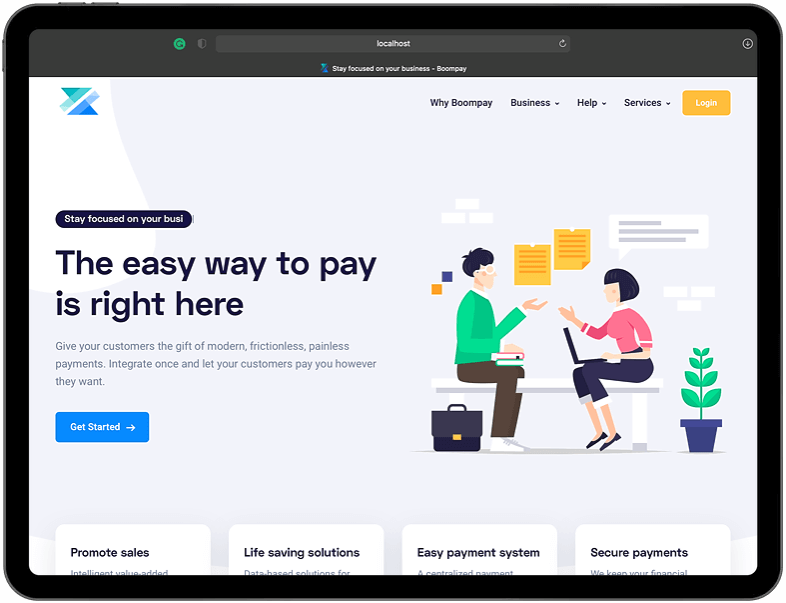 Ready to start your business?
Join our email list to get our latest promotional offers and latest information on new scripts released