Cryptex


Multiple Cryptocurrency Mining Platform

multiple coin mining script built to help you get your mining platform running in no time.
Live Preview
Installation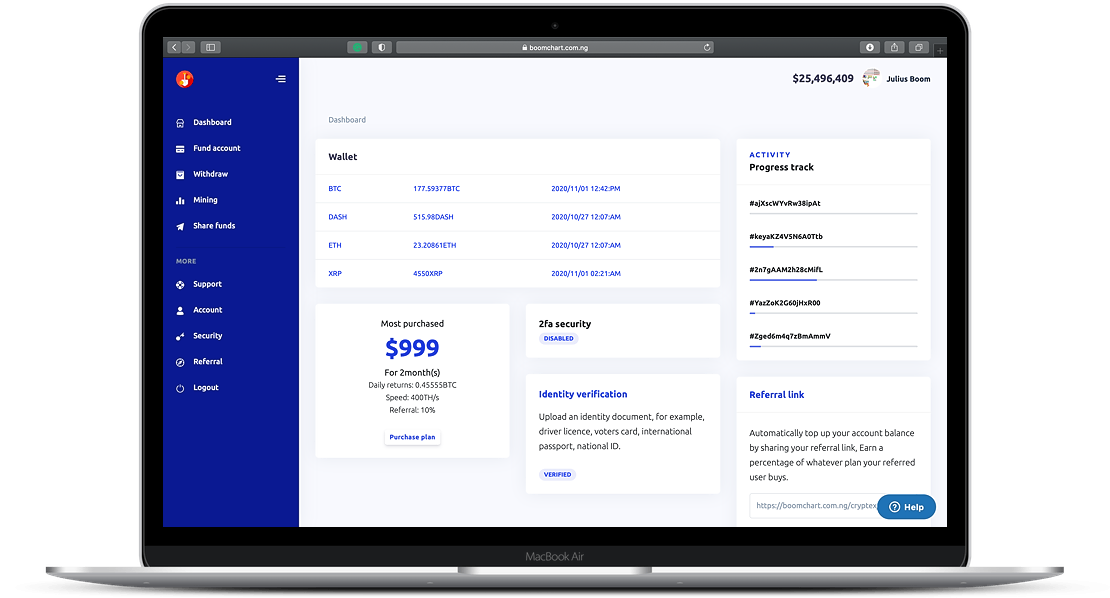 Are you looking for Complete, Secure, Responsive, Unique & Multi Cryptocurrency mining script? Cryptex is here to fulfill all your requirements. Mining script which meets all your business needs. All-in-one Solution For Start your own mining program! Our scripts are developed by our in-house Developers. We always produce the secure, reliable, efficient and scalable script. We are doing continuous improvements to make it more stable in the long run. We are using the latest and advanced technology Where Security is our primary concern. Cryptex is a modern mining script built to help you get your mining platform running in no time. It has a very user-friendly user interface. The best payment gateways have been seamlessly integrated, such as PayPal, stripe, blockchain, paystack, vogue pay, coin payment and lots more.
User features
Cross-browser optimized design
Easy sign-up & login
Secure dashboard
Trading system
Multiple deposit Methods
Account settings
Send money
KYC verification
Payout system
Tawk Twilio has been integrated
Withdraw system
2fa security
Automated Emails
Manual Withdraw
Bank transfer
Plan based referral system
Admin features
Blog management
Faq management
Webpages management
Interface control
Social links
Privacy policy
Terms & conditions
Withdrawal management
Email settings
SMS settings
Basic settings
Messages
User management
Money Transfer management
Referral management
Trading & Plan system
Deposit management
WONDERING WHAT PAYMENT GATEWAY IS SUPPORTED
Stripe
Perfect Money
Paypal
Skrill
Vogue Pay
Paystack
Flutterwave
Blockchain BTC
Coinpayment BTC
Coinpayment ETH
WONDERING WHY COINPAYMENT IS SHOWING FAILED TO PROCESS
Ensure the coin you want to receive is added to your coin payment accepted coins
On the API key page, ensure certain permissions are checked!!!
create_transaction
get_tx_info
get_callback_address
rates
create_transfer
How does the referral system work?
If you are bothered about how referral works – the platform rewards users a fixed amount configured by admin in each plan, whenever a referral makes an investment.
What is our recommended hosting company?
Namecheap is always our recommended hosting company.
Settlement?
The platform supports multiple payout methods that can be configured by administrator.
Is code open source?
Code is open-source, easy to edit provided you have background knowledge of the laravel framework
Can any email hosting be used?
Yeah, any email hosting can be used, but ensure you provide correct email SMTP in core/.env file.
Is the script translatable?
yes, the script can be translated into multiple languages, if you want more languages, you will have to pay for customization.
Stripe test card details
=> card no 4242 4242 4242 4242
=> cvc 123
=> MM/YYYY 12/2024


Flutterwave test card details
=> card no 5531 8866 5214 2950
=> cvc 564
=> MM/YYYY 09/2032
=> pin 3310
=> otp 12345