Giftworld


Gift card, bitcoin, ethereum selling platform

A gift card, bitcoin, ethereum selling platform that makes trading as easy as possible
Live Preview
Installation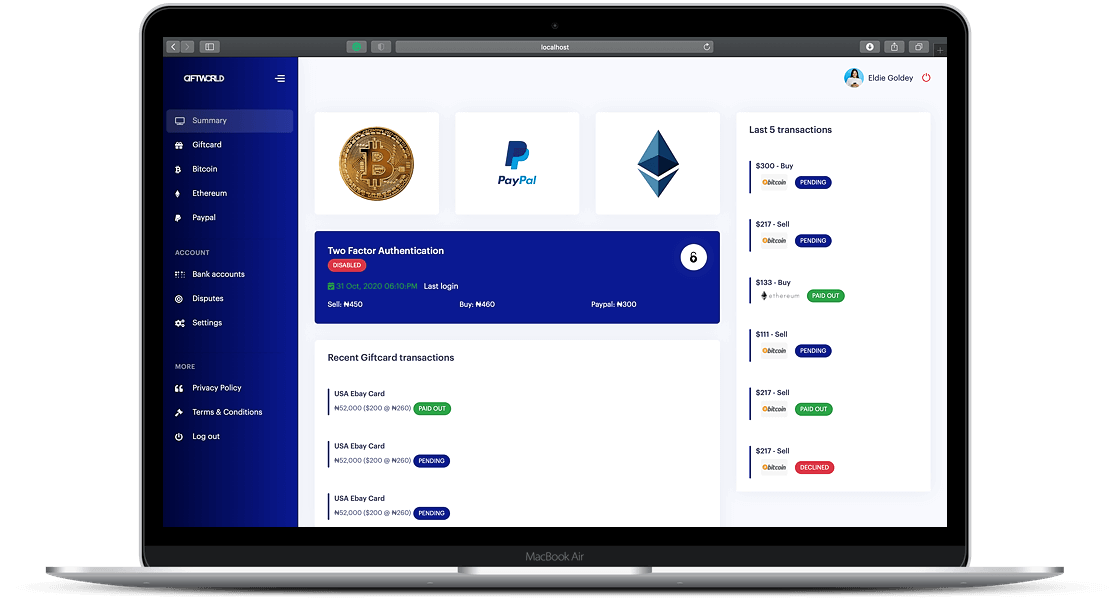 We recommend creating your own account on Giftworld to fully experience what sandbox can do.
Gift world is a selling bitcoin & ethereum, buying gift-cards & Paypal platform that makes trading possible. It's Built to be beautiful, fast, and powerful.We are doing continuous improvements to make it more stable in the long run. We are using the latest and advanced technology Where Security is our primary concern.
What you can trade
1. Bitcoin
2. Ethereum
3. Giftcard
4. Paypal
Payout Method
1. Bitcoin or Ethereum wallet
2. Bank Payout
Features
Cross-browser optimized design
Easy sign-up & login
Secure dashboard
Settings
Audit logs
Dispute systembu
Secure account funding
2fa security
Recaptcha
Bank account management
Interface control for website design
Messages
User management
Promotional emails
Send email to users following certain plans [Admin]
Policies and social management
Faq, blog, webpages, brands, team
What is our recommended hosting company?
Namecheap is always our recommended hosting company.
Is code open source?
Code is open-source, easy to edit provided you have background knowledge of the laravel framework
Can any email hosting be used?
Yeah, any email hosting can be used, but ensure you provide correct email SMTP in core/.env file.
Is the script translatable?
yes, the script can be translated into multiple languages, if you want more languages, you will have to pay for customization.